British Railroad Lantern Taillight Tri-Color, Guard, Signal Lamp. Niiiiice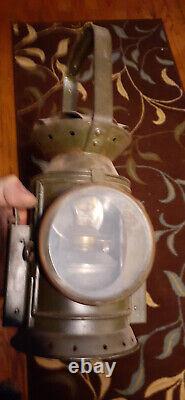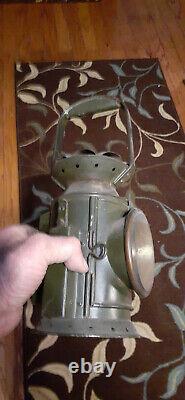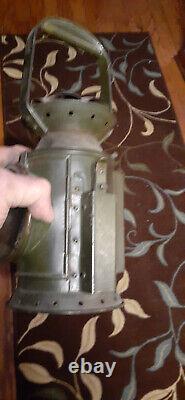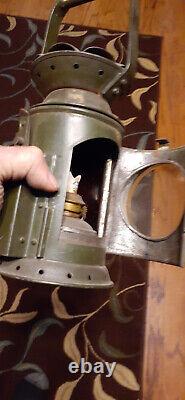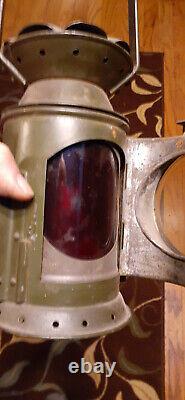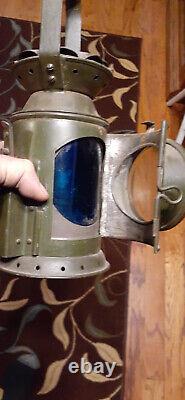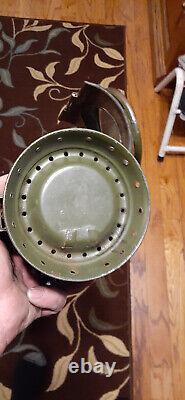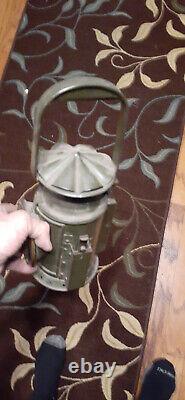 WE'LL BOTH BE SURE YOU'RE IN GREAT HANDS! Here is an EXTREMELY NICE British Railway kerosene lantern! First off, with the olive color, I'll bet it was a military issue.
I COLLECTED ANTIQUES PRODIGIOUSLY FROM THE EARLY 198OS UNTIL THE MID 2015-ISH TIME FRAME. I TRAVELLED THE MIDWEST DURING DEMOLITION WORK WITH LARGE POWER COMPANIES, AND I ALSO DEALT IN FOREST PRODUCTS LIKE CEDAR POLES AND FIREWOOD ON A LARGE SCALE FOR THE CHICAGO MARKET.
DURING ALL MY TRIPS I LOADED UP ON ANTIQUE ITEMS FROM THE LOCAL ANTIQUE STORES. I BROUGHT BACK SOME FANTASTIC ITEMS!
I NEVER BOUGHT ANYTHING UNLESS IT WAS THE BEST EXAMPLE CONDITION-WISE OF WHAT I SOUGHT OUT! THIS LANTERN IS NO EXCEPTION!!!
I bought it in the very early 1990s on a trip to Ohio on a job. It would have been placed on a 2-pronged fork at the rear of the trains.
It was held in place with a detent release on each side of the lantern. It contains 2 different colors, red and green in a rotating sleeve inside the lamp.
A third position was a clear passage that would emit a white light with no color. In this mode, it could function as an inspection lamp. The 3 positions are achieved by holding another detent release on top, and then by twisting the handle around to position your desired colors.
The inside burner is removed for filling by lifting out the whole top with the colored glass windows and the sleeve. First you open the front door. It has a tab to hold the top from coming out by accident. Opening the door gets this out of the way.
THEN you hold the detent lever backwards, and then the whole top and insides pull right up and out! NEXT you remove the burner, with the oil pot, and a small concave mirror in a frame, in back of the burner, to focus the light. This complete assembly slides up and out on 2 small rails inside the lamp.
Placed carefully back the same way! This lamp is in pretty much perfect shape!!
No dents, rust, etc, and almost all the paint is intact! THIS THING IS AS NICE AS THESE THINGS COME, BELIEVE ME!!! IT IS THE BEST EXAMPLE YOU COULD GET OF THESE BRITISH LANTERNS!!! KIND OF RARE IN AMERICA!

---